Moon Night Lamp with Wooden Stand - Charging cable.Now you can have a mini moon as your night lamp!Hold the Magic of the Universe in your hand any time you wish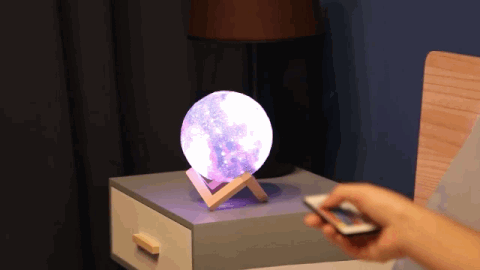 The colorful 3D starry sky effect gives people unlimited imagination over the universe or distant galaxies.The Moon Night Lamp is the perfect gift for any astronomy lover/fans. Our resin casting Moon night lamp is so detailed that it even features the craters of the Moon. This Universe Theme Night Lamp is 15cm in diameter and bed by LED lighting color. The nocturnal lamp operates by touching the detector / button at the bottom of the lamp, to change colour support several times. Seven colors by touching, or sixteen colors with the remote control. You can hold this lamp in your hands or put it on the wooden stand, whichever made you best-It is powered by rechargeable battery, so no more hassle of buying batteries!
Surprise him/her with this night lamp Our Moon Night Lamp makes an amazing and unique Gift for any season.It can be used as a night light for adults and children, or as a decoration for special occasions.The special craftsmanship on the surface, the color drawing process makes the sphere beautiful and colorful, it can be regarded as a wonderful gift for children and adult friends.
Easy to use.
Easy to use. It is easy and simple to be controlled using the touch switch, on and off / changing color seven. The remote control the lamp on and off / change 16 colors / brightness / time and etc.
Charging cable with USB port and wooden stand are included in the package
Soft, controllable lighting with built-in polymer lithium battery - supports 6-8 hours of lighting. Connect the charging cable to the power source for lighting.

Specifications:
Material: PLA
Wattage: 0.5W
Brightness: stepless adjustment,long press the switch to change the brightness
Bulb: 1pcs white LED light and 1pcs yellow LED light
Battery capacity: 1 x 240mAh li-po battery (built-in)
Charging time: 6 - 8 hours
Working time: 8 - 30 hours (depends on brightness)
Power supply: USB DC 5V
HOW LONG DOES IT TAKE TO RECEIVE MY PRODUCT?
Typically, it takes about 7-14 business days for our products to be produced and sent out. Once shipped, USPS will deliver continental US orders in 3-5 business days. The delivery time frame of other countries is about 10-15 business days.

Please note that during the holidays our production time may vary.

CAN I CHANGE THE DESTINATION COUNTRY OF MY ORDER?
After your order has been sent out, you may not change your shipping address.

SHIPPING FEE AND SHIPPING TIME:

We provide Free Shipping for orders over $69 Worldwide.

There are several logistics methods:

POSTAL DELIVERY:20-25 Business Days (excluding processing time). Shipping Fee: $12.99

STANDARD DELIVERY: 7-15 Business Days (excluding processing time). Shipping Fee: $18.99

EXPRESS SHIPPING(Applicable only in the United States): 5-8 Business Days (excluding processing time). Shipping Fee: $26.99


HOW WILL I KNOW MY ORDER HAS SHIPPED?
You will receive a shipping confirmation email once your order is ready to ship. Please note that orders may take up to 5 business days to process before they are shipped due to customized work involved. Once you have received this email please allow 24-48 hours for your tracking number to update with USPS.

Please keep in mind delivery dates may change due to inclement weather conditions or holidays.

DO YOU SHIP INTERNATIONALLY?
International shipping is available currently.

NOTE: All prices on our site are USD. Once you complete your transaction, it will charge your card in your respective currency.

PLEASE NOTE:
If your personalized product was remade, your order might be delayed. Only those items that passed the quality inspection process can be sent out, with our standards and aim to supply you with a perfect gift.
At this time, we do not ship to APO/FPO addresses or college dorms. Shipments to Alaska, Hawaii, or Puerto Rico may exceed normal delivery time.
Expedited shipping is not offered to P.O. Box shipping addresses.
We do not offer overnight shipping.
If you have any questions, please feel free to contact us via email: lovesuntime@carrynice.com
Customer Service: lovesuntime@carrynice.com